Skip to Content
What to Do if You've Suffered a Brain Injury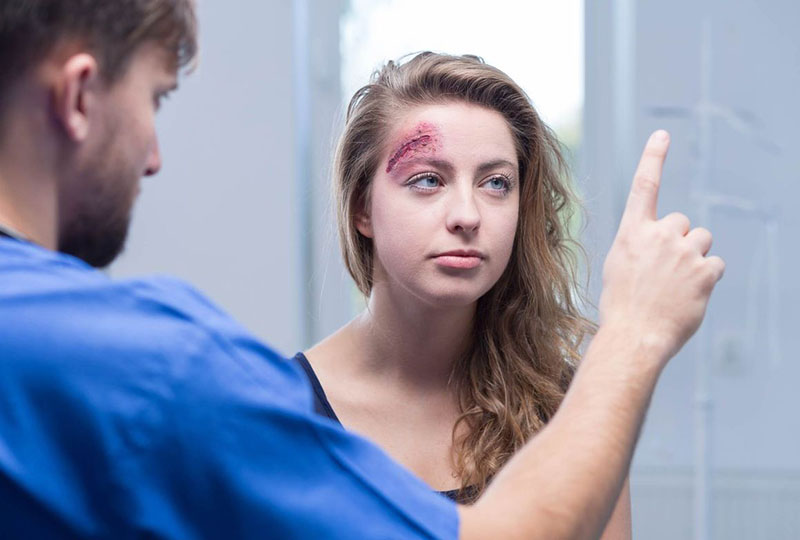 Concussions and other brain injuries are more common than you may think. It's not necessary to experience a serious impact to suffer the effects of an injured brain. Such injuries can be the result of a car accident, a slip and fall accident, motorcycle or bicycle accident, contact sports, or a violent assault. And even a mild brain or head injury can have a devastating impact on a person's daily life. Unfortunately, brain injuries are often not properly diagnosed.
Brain Injury Symptoms
Common symptoms of a brain injury include:

• Headache
• Loss of consciousness for a few seconds to a few minutes
• Confusion
• Temporary memory loss
• Dizziness
• Ringing in the ears
• Nausea and vomiting
• Slurred speech
• Fatigue
• Change in regular sleep patterns
• Sensitivity to light
• Change in sense of smell or taste

Handling Brain Injuries

If you believe that you or a loved one has suffered a brain injury, it's crucial to try to gather as much information about how the head injury was sustained and the resulting symptoms as early as possible, and see a physician immediately.

It's also important to get as much rest as possible in the days following the injury. Doctors encourage their patients to avoid anything that's mentally or physically demanding while recovering from a brain injury. Anything that could strain your cognitive abilities, such as reading and look at smartphones, tablets, and television screens should be avoided.

Mild brain injuries may heal within a few weeks. However, the effects could last months, years, or even be permanent.

Legal Options

The lawyers at Miskin Law will work hard to find out whether you have suffered the effects of a brain injury as a result of someone's negligence and get you the compensation you deserve. Common examples of negligence include:

• Drunk or distracted driving
• Unsafe conditions resulting in a slip or trip and fall
• Icy sidewalks that aren't cleared

If you've suffered a brain injury, call Miskin Law today to speak to an experienced and compassionate personal injury lawyer in Whitby. Miskin Law helps the residents of Peterborough, Oshawa, Ajax, and Whitby with personal injury claims so they can get the compensation they deserve. Call us today for a free consultation.
We're Here to Help! Contact Us Today for a Free Case Evaluation

Additionally, paste this code immediately after the opening tag: